Year: 2019
Creator: Taylor McCue
Country: U.S.
Genre: Visual Novel
Platform: Web Browser game, GameBoy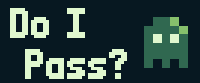 "Do I Pass?" is a visual novel where you play as a trans woman who casts a simple spell to find out if she passes while taking the bus home. She leaves her body as a ghost and reads people's minds to find out what they're thinking. There are three possible endings where she either is misgendered, passes, or isn't gendered by anyone.
The game was originally made for Confession Jam 3 and then expanded after the jam. It is playable in web browsers, gameboy emulators, and with a flash cartridge will run on gameboy hardware as well.
LGBTQ References in this game:
Citations:
McCue, T. (2019). Do I Pass? by Taylor McCue. Retrieved from https://taylormccue.itch.io/do-i-pass